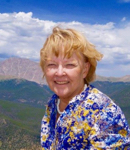 Reveille Kennedy
Hunter-Wolff Gallery is pleased to introduce Reveille Kennedy who grew up in Pueblo, Colorado. As far back as she can remember, she built, glued, mixed and painted with old enamel paints on the leftover wood from her father's carpentry shop. She was always intrigued by the flamboyant colors in flowers and bugs, and the running together of the paint colors. Then she flashes her mischievous smile and admits creating art in her dad's workshop wasn't the only place you could find her as a young girl. She loved to climb the tallest trees in the backyard to hang by her knees and practice yodeling.
But yodeling didn't prove to offer much of a professional future and after graduating from high school, she attended Pueblo Junior College. She added many art workshops and classes as she began her art career. With years of accomplishment behind her, Reveille's paintings hang in England, Scotland, Japan, and across the United States. Although painting consumes much of her time, she manages to squeeze in teaching art from her studio.
When asked what is new to painting, Reveille carefully explained, "It is that indescribable individual scrawl, stroke, line or discriminatory color. It is the puzzling mix of learned and experimented. For me, it is also the flexibility of materials such as photography, the explosion of the Internet and ways to create digitally. It is permission to play, although digital art has a long way to go before it compares to museum quality oil." But more importantly, Reveille's clients often tell her that her paintings are filled with joy. That makes her happy knowing she is providing a little joy in people's lives.
Items displayed at our gallery