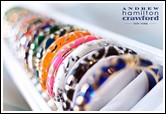 Andrew Hamilton Crawford
Hunter-Wolff Gallery is pleased to offer beautifully designed jewelry by Andrew Hamilton Crawford, known as "Chad" by his friends. From the cracks in the sidewalk to the gate of a fence, to a piece of wallpaper; it's the details of everyday life that have led to the creation of Andrew Hamilton Crawford. It's been the little things that have inspired Southern-born, New York designer, Chad Crawford to refine a collection that visits elegance and grace one accessory lover at a time. Crawford has created a charismatic line in which every design features a unique story that's re-lived each and every time the piece is worn.
Jewelry has always been a part of Chad's life; as he hails from his family's chain of fine jewelry stores "Crawford Jewelers" and worked in diamond acquisition for Tiffany's. This passion of jewelry led him to go beyond what he knew and use his experience to mix fine with the fun and whimsy elements of fashion. He takes the influence of his Southern heritage and his life as a New Yorker to cultivate a collection that enhances classic sophistication with a contemporary and modern twist. The result of this collaboration is a playful, attention-grabbing line that lies deep within tradition and reaches another level of luxury, fashion jewelry. Andrew Hamilton Crawford creates not just jewelry, but timeless pieces of art worn by all generations. Notorious for high-quality design and vivid colors, Andrew Hamilton Crawford has gained both national and international attention for its creation of a unique and innovative line of resin jewelry.
Over the past several years, the collection has become popular with celebrities like Oprah Winfrey, Paris Hilton, Rachel Ray, Deborah Harry, Beyoncé Knowles, Paula Abdul, Fergie, Serena Williams, and Christian Louboutin. Andrew Hamilton Crawford's jewelry has been spotted on the Oprah Winfrey Show, the Rachel Ray Show, The View, and American Idol. The line has been featured in many national and international publications such as Modern Bride, Lucky, Elle Accessories, Real Simple, WWD, Town and Country, and The Accessories Magazine.
Items displayed at our gallery