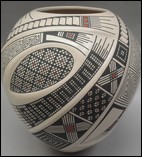 Mata Ortiz Pottery
Hunter-Wolff Gallery is pleased to offer Mata Ortiz potterya highly sought-after collectible pottery not only because of its history but because of its outstanding beauty. The unique style of Mata Ortiz pottery has been quietly gaining a strong following within the collector and fine art worlds. This pottery movement begun by Juan Quezada can best be described as modern interpretations of 12th century indigenous pottery. Mata Ortiz pottery is painstakingly handcrafted. No pottery wheels or kilns are used. All materials including the clay and color pigments are collected locally and created by the artists themselves and complicated designs are painted using brushes made from human hair.
Mata Ortiz pottery is a recreation of the Mogollonpottery found in and around the archeological site of Casas Grandes (Paquim) in the Mexican state of Chihuahua. Named after the small village of Mata Ortiz,which is near the archeological site, the style was propagated by Juan Quezada Celado. Quezada learned to recreate this ancient pottery on his own. He is given credit for updating the look and style and beginning the Mata Ortiz pottery movement. In the mid-1970s, Quezada was selling his pottery and teaching family and friends to make it. The pottery became more popular and collectible and soon penetrated the U.S. markets. By the 1990s, the Mata Ortiz pottery was exhibited across the United States in museums and other cultural institutions and sold in fine galleries. The success of the pottery, which is sold for its aesthetic rather than its utilitarian value, has brought the town of Mata Ortiz out of poverty with most of its population earning income from the industry.
Mata Ortiz continues to grow in popularity especially in the southwest United States and some other parts of the country.Demand for bigger and more elaborate pieces have driven prices upward, selling for thousands of dollars although fine small and medium-sized vessels can be found for a few $100 up to $2,500.The finest pieces are those made with white clay and those made by Quezada run considerably more. All pieces at Hunter-Wolff Gallery are handpicked and signed by their artisans.
Items displayed at our gallery