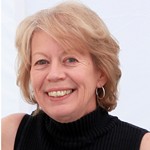 Emelene Russell
Hunter-Wolff Gallery in Colorado Springs proudly represents and offers the elegant and engaging miniature sculptures of Colorado artist Emelene Russell. Creating welded steel sculptures that convey a particular philosophy, an emotion, a memory, or even a concern, represents the driving force behind Emelene Russell's art. Some years ago she claims to have read a quote that always stuck with her: "Art is fifty percent the artist and fifty percent the viewer". This truth has proven so in the sculptures she creates.
After earning her art degree from Memphis University, Emelene then applied her creative talents to art-focused careers in public television, advertising, and her own advertising firm in Denver. She says that particular experience fulfilled her desire to own and operate a business where she was able to apply her artistic talent. These combined experiences in many ways drove her to the world of fine art sculpture.
Today, Emelene has transitioned full-time to create sculpture and to be a full-time professional artist. She is represented by several galleries across the country and enjoys participating in events such as the Little Rock, Arkansas Sculpture at the River Market. What she hopes to communicate is sculpture that speak volumes to the viewer about a single valid idea and work that delivers a powerful message, or trigges a reaction, and even impacts the behavior of individuals for a positive outcome.
Emelene expertly welds steel concepts cast in bronze and uses the lost wax method for gold castings. Regardless of medium, she is driven to express human emotion, reveal her own personal philosophy, give a voice to real life issues, or trigger a long-forgotten memory—a true communication with the other fifty percent.
Items displayed at our gallery