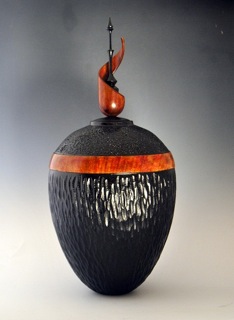 Vinny Luciani
Hunter-Wolff Gallery is pleased to present a new line of skillfully crafted wood-turned objet d'art by Vinny Luciani. Vinny Luciani lives at the base of Pikes Peak in Colorado Springs, Colorado. He is actively involved with the local Pikes Peak Woodturners club and a member of the American Association of Woodturners. His techniques have been influenced directly by studying the work of renowned woodturning artists and taking instruction from accomplished turners like Stuart Mortimer, Nick Agar, Cindy Drozda, David Nittman, and many others. Driven for knowledge and mastery of new techniques, his quest is relentless and his work is always evolving.
Vinny also enjoys passing his expertise and knowledge along through demonstrations at turning clubs and says, "I simply enjoy people and the comraderie that this passion creates. I've met so many talented and generous woodturning artists, and I savor the opportunity to give back when possible. Woodturning as an art form is a dynamic and expanding field where new collectors are inspired every day. It is with great respect for the masters that I continue to find my voice."
Vinny explains that despite the years of furniture building, antique restoration and duplication, it is the wood itself that he loves. Vinny previously owned an antique furniture restoration shop for 15 years where his eye for good form, proportion, coloring and carving techniques were honed. This is where his passion for woodturning began, duplicating antique finials and other elements of fine furniture. He is now a full time independent woodturner, working with the medium he is most knowledgeable about. Working with figured woods of all kinds, he begins the journey with chain sawn chunks of wood and mounts the raw material on the lathe to become a masterpiece for collectors, drawing from a lifetime of experience, observation and skill.
Collectors will appreciate the beautiful silver maple, walnut, mesquite, black ash, spalted maples, black cherry, Russian olive, box elder, and other types of wood that Vinny Luciani turns. Every element is finished beautifully down to the finest detail. Please feel free to visit Hunter-Wolff Gallery and ask about custom pieces for special occasions.