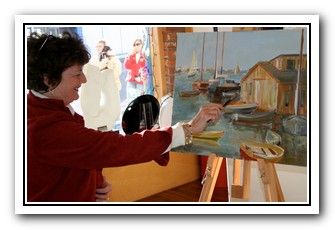 K. A. McMahon
Hunter-Wolff Gallery is proud to represent artist/educator Kathryn A. McMahon whose oil paintings are full of mood and passion while capturing the essence of the human experience. For nearly 40 years, she has been experimenting with color and pushing it to the limit. Kathryn often uses different color strokes next to each other to create an unusual sparkle depending on the colors chosen.
Kathryn is well travelled and inspired by the places she visits. She says, "The colors that I see in nature are put on canvas. Painting plein air or studio paintings are my way of telling a story with color." Typically Kathryn works with a palette that consists of a dozen colors. When plein air painting, she uses less and mixes the colors as she goes. Depending on the brushes used, thickness of paint, or how she feels, her paintings often result in what is described as bordering on a combination of impressionism and realism.
Having lived in Colorado for nearly 12 years and now relocated in beautiful Ft. Myers, Florida, she captures the beauty of coastal waters and mountain vistas alike. She especially enjoys painting waterscapes, marinas, sail boats and ships along the east and west coast, Bermuda and Europe. She never leaves home without her painting equipment and like a photographer posed with a camera, is prepared to bring her interests to life on her canvas for us to enjoy.
We invite you to visit 2510 W. Colorado Avenue, Colorado Springs, CO 80904 and explore Kathryn's collection which is priced from modest to investment levels.
We are pleased you are interested in her oils and hope you will join her many collectors around the globe and add a special piece to your home or office.