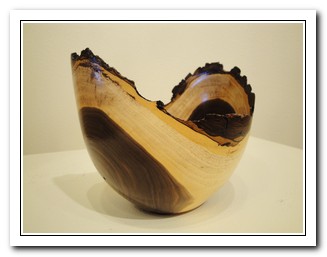 Elmer Jacobs
Hunter-Wolff Gallery is proud to present rare woodturnings of an exceptional quality by one of Colorado's finest Woodturners, Elmer Jacobs.
The first chapter of Elmer Jacob's life is about his leadership role as a successful corporate executive and CEO of a fortune 500 Company and then owner of his own business. During these years, he and his family vacationed in Colorado for many years before settling in Colorado Springs where the second chapter of his life began. He soon became deeply involved in woodturning and for more than a decade, Jacobs studied the art of woodturning and developed an expertise beyond the skills of some of his teachers. Although he enjoys working with his hands and the native woods of Colorado, his level of expertise has allowed him to expand beyond native woods to other regions in the US and outside the US where he can find rare and unique burl woods.
When working with the Colorado woods, Jacobs carefully selects wood from standing dead trees to provide another life—many in the 500 to 800 years of age category, while most burl woods are from rain forest areas where regeneration of burl cut areas takes place. Each piece is a one-of-a-kind hand turned on a lathe. No stains, paints, or artificial colors are used to change or enhance the natural beauty of these fine specimens. Jacobs begins each project with the vision of highlighting the natural figuring and grains of the wood for outstanding results.
He says, "Search, selection, and collection of unique woods provides an enriching experiences to the cut and sealed wood materials that reflect the beauty of the surrounding lands and climates of their respective origins."
One of the critical steps in the delicate and complex process of woodturning is proper drying, storing and maturing wood, and this step is particularly important in Colorado where high elevation and low humidity can cause cracking soon after cutting.
Like many fine artists, Jacobs stays involved in a variety of associations, including the Mountain Artists of Teller County, Pikes Peak Woodturners Guild, and American Association of Woodturners and participates in numerous symposiums around the country.
We invite you to visit Hunter-Wolff Gallery at 2510 W. Colorado Avenue, Colorado Springs, CO year round to explore the beautiful and unique collection by Elmer Jacobs.