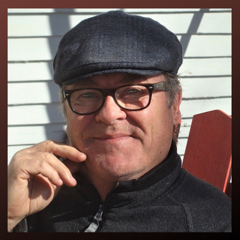 Greg Custer
Hunter-Wolff Gallery in Colorado Springs is proud to present Greg Custer's impressionistic landscape oils. Greg has lived in Colorado for the past 30 years although he has roots in the high plains of northwestern Kansas. Greg says, "the Colorado lifestyle has been a great fit" for his art as well as supporting an active lifestyle. In addition to being a professional oil painter, Greg is an art teacher at a local charter school. One can articulate that his life's journey is an all-encompassing experience within the arts.
The one trait that is of the utmost value to Greg Custer is passion. He has lived his life to the motto; "Nothing great ever happens casually." What triggers the passion for his impressionistic landscape painting can be ignited by setting foot on one of the assorted trailheads while exploring the many diverse terrain of our country's southwest region.
Greg's color palette is composed of classical European pigments that were assembled and developed under the study of the late Skip Harwick, his college instructor. He makes use of a contrast between his contemporary approach to impressionistic landscapes and the traditional approach to color with the conventional application of glazes. This combination of techniques has created Greg's painting style that produces strong, rich portrayals of western landscapes.
Arrangements can be made through Hunter-Wolff Gallery to commission work by Greg Custer, where his paintings are available.
Items displayed at our gallery