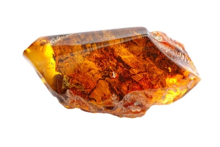 Jewelry AMBER
Did you know? The Baltic region is home to the largest known deposit of amber, called Baltic amber or succinite. It dates from 44 million years ago. It has been estimated that these forests created more than 100,000 tons of amber. Today, more than 90% of the world's amber comes from Kaliningrad Oblast of Russia. It is a major source of income for the region; the local Kaliningrad Amber Combine extracted 250 tonnes of it in 2014, 400 tonnes in 2015. Other sources of Baltic amber have been listed as coming from Poland and Russia. Because Baltic amber contains from 3 to 8% succinic acid, it is also termed succinite.
Hunter-Wolff Gallery's collection includes the better known amber colored Amber but also the rich, milky yellow amber in the warm buttery hues of honey and lemon. These lighter raw tones are among the most highly sought-after shades of the Baltic Amber. Butterscotch Amber is a rare natural form of amber, and this makes it exceptional as a color choice if you are looking for something unique and out of the ordinary.
We also offer green Amber that instantly reminds us of freshness, joy, and youthfulness, so its appearance in trendy jewelry is no surprise at all, especially if we consider traditional amber jewelry. There is so much power, and symbolism contained in our collection of green, and it's something that not only Amber admirers and true jewelry enthusiasts find appealing, but one is also drawn to their beauty instantly. The color green is a soothing color, being a true representative of growth, harmony, freshness, safety, fertility, and the environment. It is the color of life, renewal, nature, and energy.
Throughout the world's history, its ever-changing nature and reigns of numerous civilizations, amber beads, and amulets were exceptionally admired and constantly prized for their healing properties and incredible beauty. Amber stones were, in the ancient times, traded for gold by Romans, and Baltic amber was especially valued and sought for. It is indeed more than exciting to be able to wear such incredible gemstones as jewelry, taking into consideration how desired they were throughout the history for their grace, magical properties, great symbolism, and beauty. They are simply timeless and breathtaking, being a true gift of majestic artwork created by nature itself.
Items displayed at our gallery