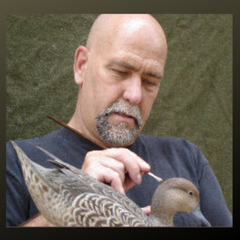 Larry Szabelski
As an avid bird watcher and wilderness backpacker, Larry Szabelski has always been fascinated by, and a student of, the natural world. Born in Chicago, his family moved to the suburbs when he was young. Luckily he was within biking distance to a forest preserve and county nature center, which became his first place of employment. Larry had always sketched animals and in high school taught himself to paint with oils. His job at the nature center allowed him the chance to paint some murals for displays as well as create some simple fish carvings.
While ice fishing in 1982 he met Justin Hogan, a retired painter who opened his eyes to the world of realistic bird sculptures. Justin taught Larry the technique of carving detailed duck decoys. He also introduced him to Richard LeMaster, one of the original pioneers of the realistic decoy movement of the late 1970's. Larry's third decoy, a green-winged teal hen, took Best of Show in Sacramento, California at the Pacific Flyway Association in 1984.
A full-time artist since 2006, Larry paints wildlife portraits and scenes on canvas frames he builds and stretches himself. He also paints with acrylics on Masonite. His bird carvings are made from Jelutong, a hard wood imported from Southeast Asia. Power tools and burning pens create the fine detail he gives the sculpture. The birds are then painted with acrylics. Each piece is signed and dated and is beautifully presented in a natural style setting.
Items displayed at our gallery