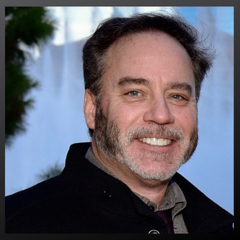 Scott Huebner
Scott Huebner established Alpenglow Wood Works, a veteran owned business. a number of years ago to follow his passion for working with his hands and wood. Scott began working with ceramics in college as a hobby and focused on developing skills creating raku fired vessels. Over time, his interest in creating fine art evolved from a hobby into a business. In 2008 he started working more with wood which lead him to completely change mediums in order to develop specialized skills for his new passion: woodturning. Scott learned how to create unique hollow-formed vessels and got hooked. Each piece that he creates reveals the unique character of the wood as it is worked.
Although Scott says he has found the medium he most enjoys, he continued experimenting with burl wood and casting the turned pieces in resin for a unique look. The results are amazing. He first turns the burl to his desired shape (sphere, teardrop, egg-shape, cube, etc.), then turns the casted resin for a combined hybrid work of art.
The next step includes sanding with very fine sandpaper, 5000 grit, before he begins the last two steps, an extensive polishing process and buffing to a silky-smooth finish with Carnauba wax. The entire process takes several days, from start to finish. Regardless of size or shape, each is a completely unique work of art, as no piece of burl is the same. Scott prefers to work with hardwoods such as Maple, or with exotic woods like Australian red mallee burls and Amazonian burls when they are available.
With the selection of unique burls combined with glass-like resins, Scott creates the imagery of having a beautiful mountain range in the palm of your hand. Ranging in size from 3" diameter up to 9" diameter, these works of art are desirable for gift-giving and grouping multiple shapes and colors near a window or on a flat surface. Hear more about Scott from a recent interview with VoyageDenver.
Items displayed at our gallery