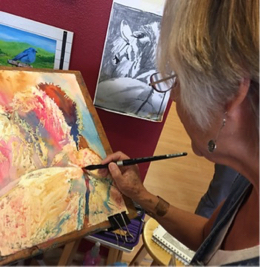 Cheri Isgreen
Hunter-Wolff Gallery is pleased to represent artist Cheri Isgreen who specializes in mixed media sculpture and painting. After a long and rewarding career in art education, Cheri retired from teaching to develop her personal vision in art. She started creating art on a full-time basis in 2012 and transitioned to her love for creating on a high note, capturing several patron awards and People's Choice at her very first art competition. Her journey has been exciting and rewarding ever since.
As a visual storyteller, she says she strives to present her vision using light, color, and form, inspired by a lifelong relationship caring and loving horses. She works in a vibrant, semiabstract style, leaving much of the story open to interpretation by the viewer. Her goal is to tell just enough about a story so that the viewer can make their own connections with each piece of artwork and complete the story.
Eye-catching, imaginative, whimsical, and bold come to mind when viewing the artwork of Cheri Isgreen. Known for her equine subjects, forms in nature, and paintings, Cheri draws upon her extensive background as an art educator, when she taught a wide range of subjects, media, styles and techniques.
With a focus on form and content, Cheri's artwork is highly sought after and integrates with all personal style preferences. Collectors love that her mixed media ceramic sculptures work well with every interior décor style including classical interior designs from minimalist to contemporary, traditional to transitional, urban modern to mid-century modern, etc. Whether an equestrian or not, if you appreciate the beauty of horses and sculpture, you will find Cheri Isgreen's dream horses appealing.
When meeting Cheri in person, there is no question horses are her greatest passion along with creating equestrian themed sculpture. She owns two Lipizzans, one of which she raised from a baby and the other a rescue horse. She says her rescue horse rewards her with his trust and partnership and both are often the subject of her sculpture and paintings.
Items displayed at our gallery