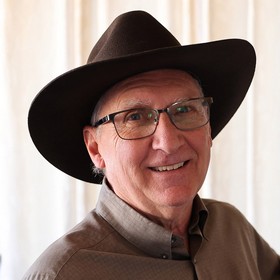 Ed McKay
Hunter-Wolff Gallery is pleased to introduce you to Colorado artist Ed McKay. Born and raised in the Washington DC area, Ed enjoyed access to the many Smithsonian museums and galleries that grace the city. During this time, he came to appreciate the masterful works of artists throughout history. Ed's favorite paintings are almost all by representational artists. Those paintings demonstrate excellent draftsmanship, technique, craftsmanship, and are true to the subject matter.
From 1980 to 2016, Ed served as a designer and creative/art director and producer on thousands of communications and education projects, including: video, animation, illustration, presentations, multi-media, new-media, publications, exhibits, conferences, training, on-line education, and website development. Many of those projects were recognized with about 100 awards. During that span, he also painted in his free time, with his work appearing in shows and galleries.
After retirement, Ed and his wife moved to Colorado Springs in 2016. With breathtaking views of Pikes Peak and the Front Range from his home, Ed and his wife knew they made the right decision. This move was a critical turning point in the arc of his painting career. The daily access to spectacular scenery and abundant wildlife provided inspiration beyond measure. He embraced the Colorado culture of outdoor activities and appreciation of the magnificent landscapes and its diverse wildlife. Joining Oil Painters of America, the Pikes Peak Plein Air Painters, and the Plein Air Artists Colorado groups put him in touch with both the national and local art community and many beautiful venues for artistic expression.
Working in oil and acrylic, most of Ed's paintings are referenced by his experiences, places visited, and subject or themes that intrigue him. Many of his paintings tell a story, which draws viewers into the scene. His still life paintings that include ravens or owls in interacting with man-made objects have been very popular. Inspiration often comes from the simple desire to learn or refine a technique, to capture a visual or lighting effect, or to put on canvas something that moved his emotions. This can be very personal for him, and whether those emotions come through can only be judged by the viewer.
Items displayed at our gallery