The Hunter-Wolff Gallery team is made up of knowledgeable, customer focused members
ready to help you in your quest for art that fits your personality, lifestyle and budget.
Sharon Wolff is a respected entrepreneur and the successful owner of Hunter-Wolff Gallery since 2005. Not all that surprising, however, she continues to expand her growing business when others have struggled during locally impacting wildfires and floods, economic downturns, and a world-threatening pandemic. She says that her secret to success is listening carefully to her patrons and delivering what she promises.
As Hunter-Wolff Gallery grows, Wolff has been able to better focus on a wider cross-section of Colorado accomplished artists who have an average of 25 years or more experience. Wolff looks for the accomplished but also the "up and coming" emerging artists with unique creativity and the potential to take their success to the next level.
Propelled by a strong drive to succeed, an inherent business sense, and "can do" attitude, Wolff follows her business plan that she regularly revisits and modifies for optimum success. Now in her 15th year of operation, Wolff's reputation and success has received the attention of the art community and its art lovers. Wolff thrives on selecting and showcasing new talent and she enjoys mentoring young artists needing an edge to get the attention of collectors and galleries.
Achieving success in the competitive art business is a testament to the strength of her values. Wolff is committed to providing her patrons with an enriched experience and the highest level of customer service. Building a long-lasting relationship with its valued clients is the hallmark of Hunter-Wolff Gallery's philosophy.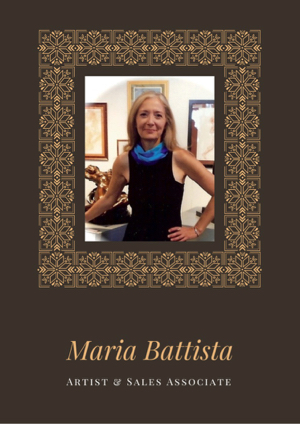 Meet Maria Battista, Hunter-Wolff Gallery's Sales Associate and accomplished artist, jewelry designer and fabricator. Maria wears many hats.
She plays classical guitar, speaks several languages, explores philosophy and sheds light on the treatment of women in underdeveloped nations. But above all, she is a full-time professional Artist and represents Hunter-Wolff Gallery on a part-time basis.
When not working her shift at Hunter-Wolff Gallery, she works in three divergent technical media: silver and gold smithing, life drawing, and sculpting with an emphasis in each of these on the human figure as a central tool of expression.
As a jewelry artist, she also specializes in custom projects that involve a profound collaboration with the client and discernment about what may be emerging by seeking expression in consciousness.
Meet Jean Kowalski, one of Hunter-Wolff Gallery's representatives and Sales Associates. In addition to decades of sales, business and creative experience, Jean is a compassionate healing, wellness and spiritual coach. As a gifted artist, she has an in depth knowledge about the varied mediums offered at Hunter-Wolff Gallery. We believe one of Jean's strengths as an associate is her strong communications skills and ability to bond with customers. She always has an upbeat attitude and pays meticulous attention to detail. We look forward to introducing you to Jean in person.