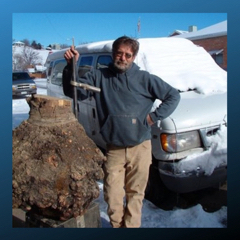 Jerry Wedekind
Hunter-Wolff Gallery proudly presents the unique woodturnings by Jerry Wedekind. Jerry has been scouring the Colorado wilderness for over 20 years for the finest aged wood to create these striking collectibles.He often takes flight, searching like an eagle in the sky, to locate rare and unusual burlswhich from the sky look like a black target against the white aspen bark and snow covered ground. With his GPS system, he records the location of each potential piece to collect on foot later.
At his workshop, he carefully categorizes his bounty and plans which will become lamps and art pieces. Jerry uses a variety of hardwoods including aspen, maple, alligator juniper, Russian olive and other regional specimens, all harvested from standing dead trees at the peak of richness and figure.These fine collectible wood materials are the basis for his impressive, one of kind heirloom creations.
An outdoor enthusiast, Jerry handpicks potential turning pieces while hiking and mountain biking when hes not visually identifying burls from the sky. He says, When Im on a trail, I have one eye on the trail and the other fixed upon the surrounding landscape in a constant quest for the raw materials I need for my turnings.Once a tree is located, the work of retrieving the fallen wood becomes as much a part of the history of the turning as the actual shaping and finishing.Determined to collect the finest, Jerry has been known to drag a burled log seven rugged miles out of the backcountry because he knew it held the spectacular figure for which his work is acclaimed.His passion for the beauty of Colorado's wilderness reflects like a mirror in his woodcraft from start to finish.
Step by step, from searching for quality materials to etching his distinctive signature on a finished piece, Jerry's attention to detail throughout the process is always on achieving a highly desirable art piece.The burls themselves dictate the form and functionI am just privileged to do the collecting and crafting.
Items displayed at our gallery