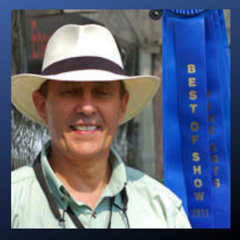 Dennis DeBon
Hunter-Wolff Gallery is pleased to present award-winning glass artist Dennis DeBon and his unque glass art. Dennis is the creator of EnergyWebs (TM), a unique form of modern glass art. This new art form combines two techniques--reverse painting on clear glass and spin art-- for beautiful results.
Each piece is free-style hand-cut, scalloped, polished and then spun for a one-of-a-kind art. The colors are fired onto the glass and each piece is hand-signed. No two are alike and all are displayed in a metal stand that comes with each purchase.
Call Hunter-Wolff Gallery to special order your unique art by Dennis DeBon.
Items displayed at our gallery