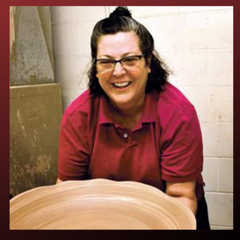 Kerry Brooks
Hunter-Wolff Gallery represents Kerry Brooks, one of our out-of-state based artists. She is a long-time potter based in Minnesota. She learned to throw clay in Ann Arbor, MI and works as a full-time studio potter. She works primarily in wheel-thrown, high-fired stoneware. Her specialty, however, with fused glass is primarily decorative and can be used with dry foods and should be hand-washed. Unique and appropriately called the crackle glass ceramics, these pieces are stunning. Before putting each piece in the kiln to fire the glaze, Kerry adds wax and crushed glass to the center of the piece. The wax and glass both melt in the kiln, the wax evaporates, and the glass crackles as it cools and solidifies for a sparkle unlike everyday stoneware.
Her stoneware embellished with fused glass needs to be used and handled differently from regular tableware so it will showcase its beauty for a lifetime. These eye-catching combined mediums are not suitable for preparing food but can be used for serving dry foods such as breads or crackers, fruit, nuts and candy and should be hand-washed. All of Kerrys pots are durable and they will not lose their vibrant colors over time.
Hunter-Wolff Gallery offers Kerry Brooks pottery with fused glass in a rainbow of colors. She uses light greens, turquoise, amber, ocean blues and other vibrant glazes with glass fused in the center of her various shaped bowls and platters creating depth and glimmer. Her designs with fused glass are food safe in that they are not toxic in any way and you will discover many ways for adding a little extra pizazz to any room in your home or office.
Items displayed at our gallery