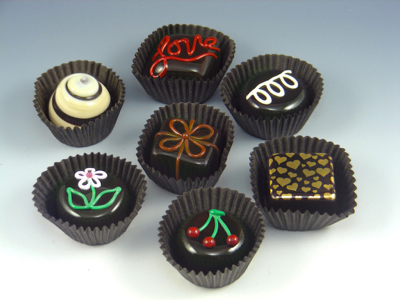 Hulet Glass
At Hunter-Wolff Gallery, we love art glass almost as much as chocolate! This is why we are so excited to offer art glass collectibles inspired by sweet treats! Sisters Patty and Dinah Hulet came up with the idea to create tasteful glass temptations that look good enough to eat because these too are their favorite things.
For over 30 years, Patty and Dinah Hulet have been creating art glass from their home studio. Their work can be found in museums, galleries and fine gift shops around the world. In 2005, they decided to add fine glass chocolates to their collectibles, because it provided an unusual opportunity to combine two of their favorite things--Art Glass and Chocolate!
Each handcrafted glass chocolate treat is individually dated and signed, and each has soft felt pads affixed to the bottom to prevent scratching a favorite candy dish or display surface. Your purchased glass chocolate treat is individually protected in a special box, if a custom box is not specified. An enclosure card is included in every box. These little collectible art pieces, inspired by chocolates, measure approximately 1"x 1.5". Because each piece is handmade and unique, expect slight variations in color and size.
Meticulous attention to detail has gone into the creation of each to enhance its appeal and collectability. Use them to create a unique display on your desk or table, or a cabinet for your home or office. Start a collection for yourself and select for an unexpected and thoughtful gift for friends and loved ones.
Items displayed at our gallery