Welcome! Hunter-Wolff Gallery offers a diverse collection of museum-quality fine art to ignite your imagination, fuel your passion and inspire your decorating style. Browse our ever-changing fine art collection and experience true artistry from Colorado artists and artists from around the United States.
Owner Sharon Wolff carefully selects the finest works of art by a select group of artists specializing in oil, watercolor, pastel, and mixed medium in a wide range of styles including expressionism, impressionism, realism, and more. In a few minutes, you will also find photography, metal art, bronze and stone sculptures, pottery and ceramics, blown and fused glass, and wearable art jewelry among the diverse collection of wall art.
Whatever your style or budget, Hunter-Wolff Gallery's staff looks forward to helping you with your fine art needs for your home or office or perhaps a unique gift for a special occasion. Stop by to visit one of Colorado Springs' best art values and see why Hunter-Wolff Gallery has received many awards and "Best of the Best" year over year. We promise to make your experience the best from the moment you step inside.
Featured Artist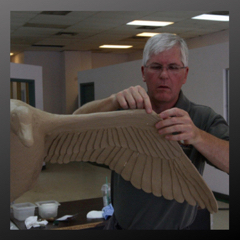 Fred Lunger
Over the years, Fred has explored and experimented in a wide variety of art and found his niche sculpturing. Sculpting challenges Fred to translate an idea bubbling in his mind to a piece of art that tells a story. He says, "Sculpting provides me with a way to create the perception of life and movement. It is most satisfying to draw the viewer in to interact with my sculpture."