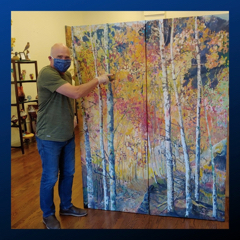 John Sherman
Hunter-Wolff Gallery is honored to offer paintings by Colorado artist John Sherman. Sherman is a representational painter who expertly weaves abstract elements into his complex, multilayered landscape paintings imbued with texture. His paintings take viewers to places in forests and meadows of Colorado where the colors of quaking aspens, cottonwoods, oaks and luscious spruce blend in and out of each other and where the movement of wind brings the scent of leaves, grass, and earth together.
Sherman says he has been passionate about art and science since he was a young boy growing up in a small North Dakota town. He was encouraged to paint and showed his works at an early age. Then the time came when the study of art and science were competing interests and science prevailed. Sherman pursued medical school instead of art school but managed to continue to follow his passion for the arts during his medical career. After moving from Washington DC to Colorado in 1991, his painting career started to blossom, inspired by the Rocky Mountains and some of his favorite painters, including expressionist artists Chagall, Klimt, Rouault and fauvist artist Derain and impressionists Cezanne and Gauguin.
Creativity was more than just a passion. It was a vehicle that allowed Sherman to more clearly express ideas he sometimes found challenging to convey with words. As Sherman's techniques and skill evolved over time, it became even more important to him to capture the essence of a place and not just the natural beauty. To accomplish this, he creates using many layers of construction. His methods of construction and fabrication, although are largely self-taught, are effective techniques informed by careful study of modern media using stable archival processes. Collectors appreciate the multi-layered construction of acrylic media, collage, sand, plaster, paper and archival other elements found in his work. Sherman spends endless hours preparing surfaces that are progressively built up, sanded down and sometimes artistically "crackled" providing complexity at the micro-level.
John Sherman accepts commissions that incorporate special requirements for a client and has painted for private collectors and artists in the film and music industries. His work is displayed in numerous private collections across the United States and offered through Hunter-Wolff Gallery year-round.
Items displayed at our gallery