Never miss an important date by checking our Calendar of Events frequently or by subscribing to our email list. Learn more about Hunter-Wolff Gallery Opening Receptions, annual events and important announcements.
5/28/22 thru 5/30/22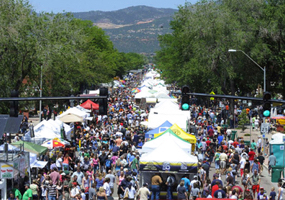 Territory Days in OCC
Colorado Springs Westside comes to life as Territory Days comes to Old Colorado City on Memorial Day Weekend, May 28-30, 2021. For more than 40 years, Territory Days has been Colorado's largest street fair! Shop hundreds of unique vendors with handcrafts from around the world. Enjoy great food, dozens of educational displays, Native American entertainment, Wild West characters, patriot tributes and live music from 25 bands on four stages. And best of all, admission is absolutely FREE! Bring the whole family and celebrate the spirit of the Old West. Come be part of the history. Hunter-Wolff Gallery will not be open during this event.
6/03/22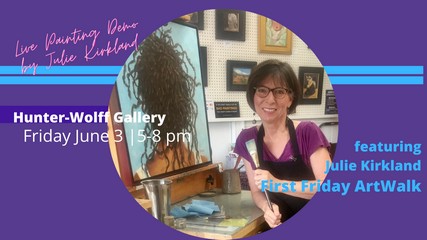 First Friday ArtWalk Featuring Julie Kirkland Plus Live Demo
Join us for First Friday ArtWalk featuring a special exhibit by local artist Julie Kirkland and watch her at her easel as she creates a new painting during ArtWalk and chats with visitors. June 3 from 5-8 pm. Free and family friendly.
7/01/22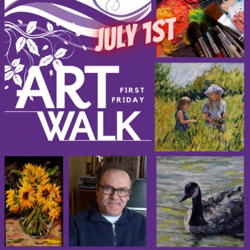 LIVE! First Friday ArtWalk featuring Oil Painter Greg Custer
Join us for First Friday ArtWalk. Enjoy Hunter-Wolff Gallery's featured Artist of the Month Greg Custer. This Colorado Springs artist will be unveiling his "travel" series inspired by his recent trip to Italy.
8/05/22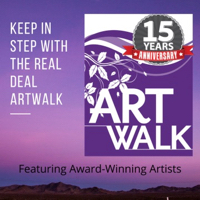 First Friday ArtWalk featuring Oil Painter Marlene Kort
Join us on August 5 and enjoy meeting Hunter-Wolff Gallery's featured artist Marlene Kort, who will unveil a new collection of must-have oil paintings at First Friday ArtWalk Opening Reception. This event is free and family friendly. 5 - 8 pm
8/27/22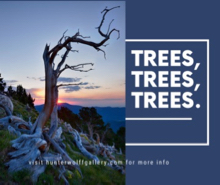 Trees, Trees, Trees - Gallery Exhibit
This all day Saturday event, August 27, will feature everything we love about trees! Trees are vital. As the biggest plants on the planet, they give us oxygen, store carbon, stabilize the soil, give life to the world's wildlife, and inspire artists to capture their beauty on canvas and by using other surprising mediums. This exhibit, including works by Kathy Beekman, Maria Battista, Dottie Boscamp, Clifford Bailey, Cheryl Swartz, Marlene Kort, John Sherman and Janelle Cox, will take place from 11 am to 6 pm.
9/02/22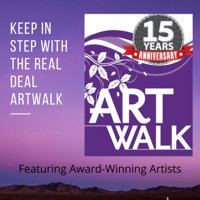 First Friday ArtWalk featuring Sculptor Adam Long
Join us for First Friday ArtWalk and talk with this month's featured artist Adam Long. View his never-seen before collection and discuss where the artist's inspiration comes from. This event is free and family friendly. 5 - 8 pm
9/24/22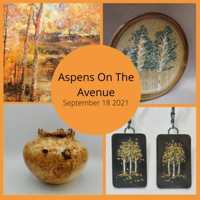 Aspens On The Avenue at Hunter-Wolff Gallery
Join Hunter-Wolff Gallery, on the Avenue and inside the gallery, for a spectacular display of our fall aspen collection, including turned aspen vessels, aspen landscape paintings, aspen themed pottery, jewelry and more. Meet several featured artists, who will dazzle you with their creative talents. Speak with these career artists and learn how the aspen tree has impacted their creative processes.
10/01/22 thru 10/31/22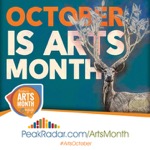 October Is Arts Month
This October, the Pikes Peak region is celebrating Arts Month, an annual initiative to raise awareness for the quality, diversity and value of the arts in our community. Building on the popularity of National Arts & Humanities Month, our local initiative is being orchestrated by the Cultural Office of the Pikes Peak Region. The official call to action during Arts Month is to "have at least one new cultural experience with family or friends during the month of October." We look forward to seeing you for your cultural experience!
10/07/22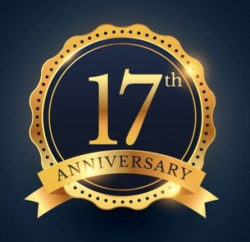 17 Year Gallery Anniversary Celebration
During ArtWalk, 5-8 pm, Hunter-Wolff Gallery celebrates its 17th Year Anniversary Show, featuring the best of the best and some of the finest collections in Colorado. We will unveil the newest collections of clay sculpture by Cassandra Sharon. Explore all of the best of the best regional artists at Hunter-Wolff Gallery. Join us for an evening of celebration with new exhibits and good friends. Make October your Arts Month!
10/15/22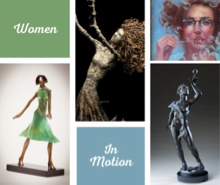 A Special Exhibit Featuring Women in Motion
This show is a representation of women of all ages, the good, the bad and beautiful in action, working, dancing, playing, etc. Don't miss this special event on Saturday, October 15 from 11 am to 6 pm and meet the creators, including Maria Battista, Richard Pankratz, Marlene Kort, John Sherman, Janelle Cox, Kathy Beekman, and more, inspired by the female figure in action using a variety of mediums to capture their impressions.
11/28/22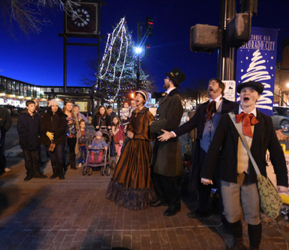 Christmas Stroll in Old Colorado City
Happy Holidays! Do the "Christmas Stroll" in Old Colorado City from 5 pm to 8 pm while gathering gift ideas and shopping for the holidays.
Enjoy all the special merchant treats and holiday festivities! VIsit Hunter-Wolff Gallery from 10 am to 8 pm!
11/29/22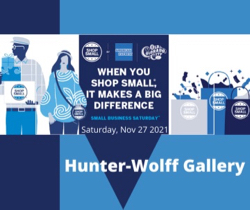 2022 Shop Small Business
Small Business Saturday November 29
Support your local business owners on Small Business Saturday and get bargains galore on this particular day of savings in Old Colorado City. Shop small all day and make a big difference! Spread the word and share your special finds on social with #SmallBusinessSaturday and #ShopSmall.
Date: Saturday, November 29th
Time: All Day
Location: Hunter-Wolff Gallery and All Local Old Colorado City Shops
Follow Old Colorado City on FACEBOOK for more
Shopping Small at your local shops supports a healthy economy and more desirable neighbor. Plan shopping for fine art and gifts at Hunter-Wolff Gallery on the Big Shop Small Business Day! 10 am to 7 pm #ShopSmall
12/02/22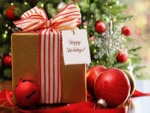 First Friday Holiday ArtWalk - December 2
Join us for the last First Friday ArtWalk of the season and enjoy our special Holiday Gala all day long! Hunter-Wolff Gallery will be featuring some of the best artists in Colorado Springs and celebrating all its fabulous collections this month. Happy Holidays! 10 am - 8 pm
1/02/23 thru 2/15/23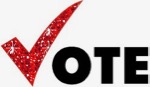 VOTE Hunter-Wolff Gallery Best of the Springs
We appreciate your support and voting for Hunter-Wolff Gallery for the past 17 years. You know Hunter-Wolff Gallery and frequently tell us you love us. Now you just have to vote for us online at the Arts/Entertainment category, click through to "Commercial Gallery" and "Gallery" to vote for Hunter-Wolff Gallery and click through to the last page and SUBMIT. That's it. Thanks for helping Hunter-Wolff Gallery and its 40 fine artists get this recognition in 2023.
1/21/23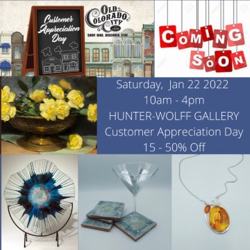 Customer Appreciation Day 15-50% OFF
One Day, Once A Year on Saturday, January 21 from 10:00 am 4:00 pm find original art at Hunter-Wolff Gallery at lower than normal prices. Find great values ranging from 15-50% savings. Join Old Colorado City's art district and other art galleries and retail shops for a big day featuring top notch art work for big savings. Adding to, or starting your art collection is even more attainable at this Annual "Customer Appreciation Day" buying event. As a bonus, you will meet featured artists for a live demonstration. Arrive early for the very best selections. This Saturday only, from 10 am to 4 pm.
3/18/23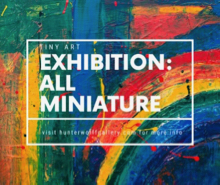 Tiny Art | Exhibition: All Miniatures
Join us Saturday, March 18 from 11 am to 6 pm for a special gallery event. If you love miniatures, you can't miss this special Exhibit featuring everything miniature! Hunter-Wolff Gallery's artists, including Marlene Kort, Lori Hight, Clifford Bailey, Dottie Boscamp, Maria Battista, Greg Custer and others, will be displaying miniature paintings, ceramics, sculpture, blown glass, and more. Meet the artists and discover a new world of tiny art. Live demonstrations.
3/20/23


Hooray! The First Day of Spring
Welcome Spring! When Is The First Day of Spring in 2023? In 2023, the March equinox happens on Sunday, March 20, at 5:37 A.M. EDT, those of us in the Northern Hemisphere will welcome spring with the arrival of the vernal equinox.
Spring is the perfect time for home upgrades and adding new artwork! Visit us and we will be happy to help you make your home fresh and inviting!
4/07/23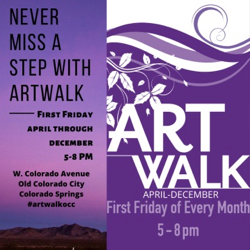 First Friday ArtWalk is Here For You
It's April Fools Day, but we are not fooling you! We've got a great exhibit of small works of art and can't wait to show you. Get ready for a self-guided ArtWalk tour and join us between 5-8 pm, Friday, April 7 viewing and selecting artwork by Hunter-Wolff Gallery's featured artist. We will start the ArtWalk season with a captivating collection of small paintings ranging starting at $125.
Explore Hunter-Wolff Gallery and its 40 artists in Colorado Springs' growing Arts District located in Old Colorado City. Hunter-Wolff Gallery is excited to offer this unique collection of small works for Opening night, including paintings and other small art. The fine small works of art are a great way to start collecting and getting acquainted with some of Colorado's award-winning artists. Stop in for an introduction and let your imagination soar.
1/27/24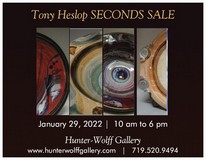 Biennial Seconds Sale Featuring Tony Heslop Pottery January 2024!
Pottery Sale for Big Savings! 10:00 AM to 6:00 PM featuring Tony Heslop seconds pottery. Doors Open at 10 AM !!! Come Early! One day only. Bring boxes and cash!
11/21/25 thru 11/23/25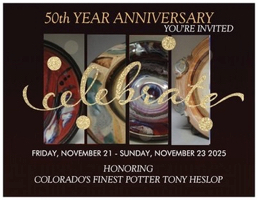 Tony Heslop's 50th Anniversary Celebration November 2025!
Mark your calendar for this special event. You will have three chances to meet Tony in person and select one of his commemorative pieces on Friday, November 21 from 10 am to 6 pm, Saturday, November 22 from 10 am to 6 pm, and Sunday, November 23 from 10 am to 6 pm. This Anniversary Celebration runs through Sunday, November 23 and ends at 6 pm. This event is celebrated every 5 years; don't miss it.