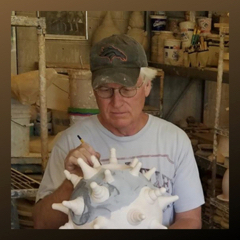 Tony Heslop
Smashing Results from A Six-Month Fundraising Effort to Help Other Artists
Celebrating 45 years as a professional ceramists, Tony Heslop keeps Hunter-Wolff Gallery's shelves filled with decorative and functional clayware. Tony started working with clay when he was in high school and has been perfecting his techniques, glazes and stylized designs for over four decades. TAKE A MINUTE TO BECOME BETTER AQUAINTED WITH TONY AND HIS JOURNEY
At Hunter-Wolff Gallery, pottery lovers will find a wide variety of options including everything you need in the kitchen along with his highly stylized collectible Raku art vessels. Tony also makes other household items like lamps and sinks. His work is suitable in every room in your house. He is the preeminent potter of Colorado Springs and whether you are a new collector, or a long-standing collector of clayware, you will find pieces that are affordable and artistic. Even other potters across the country have been known to collect Tony's work.
His glazes are durable and will not lose t heir vibrant colors over time. Functional ware by Tony Heslop is food safe, microwaveable, oven and dishwasher safe. His pieces are perfect for preparation and serving.
BEFORE PURCHASING POTTERY ONLINE:
NOTE: ITEMS WITH AN INVENTORY NUMBER are one of a kind. You can only order one item online and if additional pieces are required, PLEASE call to special order to receive the quantity you need.
Items displayed at our gallery