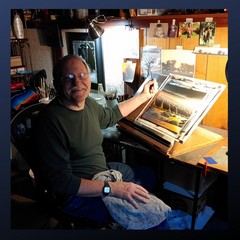 Clifford T. Bailey
At 19, Clifford T. Bailey began his career in 1971 in Scottsdale, Arizona. Since a full time artist, he continues to win many top awards in national events and is included in dozens of private and corporate collections including Con Agra, Swift, Burlington Railroad and Beatrice.
He and his wife Cheryl live on a farm near Greeley, Colorado. Looking west from the studio is Bailey's favorite landscape, several hundred acres of grazed pasture bordering the Platte River with Long's Peak in the far distance. People familiar with Bailey's work will recognize various parts of the view that frequently appear in the traditional landscapes he paints. These pastures have provided Bailey with an unending source of inspiration for his paintings. He has constantly observed Long's Peak and the other Front Range mountains and their foreground landscape in all weather, seasons and times of day. Bailey composes his landscape paintings from recollections stored in his mind's eye and from a collection of photographs he has taken. He doesn't copy the photographs, but instead uses them to supply information about a certain tree, a cloud formation, or an object reflected in water. His primary concern in creating a painting is the feeling or emotion it evokes, the light and the atmosphere.
He also paints small still lifes that are reminiscent of the Old Masters in their technique with contrasting dark and light tones and subject matter such as perfectly rendered fruits. These are often rendered with subtle reflections on a black tabletop and droplets of water. Each is a careful study not only of the objects painted, but also of the technique and art of applying oil paint to canvas.
After being introduced to the medium of oil paint in a high school, Bailey continued to paint and is, essentially, a self taught artist. "The only way to learn to paint is to paint. What makes a painter an artist isn't necessarily skill or talent, it's something else. Many have a considerable ability to draw or paint but don't approach their subject in a sensitive or thoughtful way. It's far more important to me to paint from the heart. If the viewer is also sensitive, they will respond to the emotion you put into it."
Items displayed at our gallery