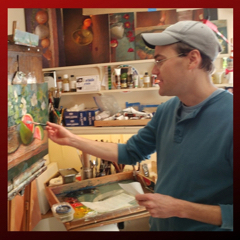 Justin Clements
Hunter-Wolff Gallery is pleased to introduce Colorado artist Justin Clements, a native Coloradan. At an early age in elementary school, Clements clearly showed signs of a natural artistic talent and pursued his passion for visual arts.His interests and studies were influenced by several key contemporary artists, including Paul Lucchesi, Daniel Edmondson, and David Leffel .Clements has always been drawn to creating work that is colorful using contemporary themes and objects with expressive brushwork.
Clements credits Lucchesi with influencing his individuality and expression with figure art, capturing the Italian Renaissance and Baroque styles. With this foundation, these artists in particular helped channel Clements Old Masters style with more contemporary and dramatic still life and landscape themes.This melding of styles is apparent through his ultra-soft brushwork and understanding of color, light, and shadow.
Aside for my family, painting is a true passion in my life, remarks Clements. I enjoy every step of the process, from developing a concept to the last brushstroke. I love using the dramatic power of values to grab the eye, describe a volume, or make a color sing. Edge and brushwork can do so much to guide the viewer from one thing to the next within a piece and when the colors are true and working together, what a great feeling.
Justin Clements paints nearly every day and collectors will find a variety of works available through Hunter-Wolff Gallery, 2510 W. Colorado Avenue, Colorado Springs, CO 80904.Please feel free to call 719-520-9494 to learn what is on Clements easel and scheduled for delivery.
Items displayed at our gallery