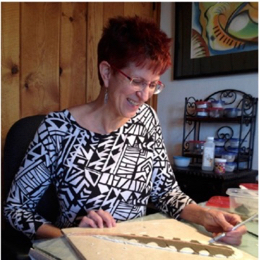 Lois Manno
Hunter-Wolff Gallery is pleased to represent artist Lois Manno, who has achieved a life-long career in various aspects of the art world. For the last 30 years, she has been a successful professional artist and author, beginning her long career in art during college. There she studied Fine Art, drawing and painting and enjoyed illustrating books for numerous publishers.
After working for many years as a painter and graphic designer, kiln-glass reignited her passion for making art in a way Lois never imagined possible. Her work is informed by the natural world and themes of power, beauty and transcendence. She has since invented several techniques unique to her own interest: creating three-dimensional sculptural glass objects without the need for molds. Using glass powder, she creates art inspired by what she loves—feathers, the sky, birds, and other forms inspired from nature.
When not working in her Sandia Park, New Mexico glass studio, Lois is traveling the country teaching her unique method of working sculpturally with glass powders and frit.
Her work can be found in many private collections across the country. Lois' glass work has been included in numerous exhibits nationally, and Hunter-Wolff Gallery is pleased to provide its collectors with this unique medium developed by Lois Manno.
Items displayed at our gallery