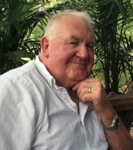 Tom Coffey
Hunter-Wolff Gallery is pleased to represent Colorado artist Tom Coffey, a member of the American Association of Woodturners. Tom is known for his exquisite lidded wood turned vessels. Although a resident of Colorado since 2002, Tom is a native New Zealander. As a young boy in New Zealand he worked alongside his grandfather who taught him home construction and how to use woodworking tools but it was decades later before he returned to his passion working with wood.
As a young adult he moved to Western Australia where he spent most of his career as a metal fabricator/welder before relocating to Colorado to be with his lovely bride. Semi-retired, he decided to re-new his passion to work with wood and bought his first lathe to create unique turned vessels and objects dart.
Becoming acquainted with local turners and interested in what was possible in his own workshop, he studied with one of Colorados renowned turners Dale Scott. Today, Tom is as skilled and creative as the best. He specifically enjoys working with native Colorado woods, including Aspen, beetle-killed Ponderosa Pine and other hardwoods. Many of his designs are accented with exotic woods, antlers, porcupine quills, hemp and branches for interest and contrast. As passionate as Tom is about woodturning, he also enjoys being outdoors, hiking and biking, where he often finds ideas and inspiration for his next creation.
NOW 40% OFF Start-A-New-Collection Sale on All Tom Coffey Vessels
Items displayed at our gallery