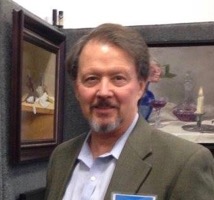 Tom LaRock
Hunter-Wolff Gallery is delighted to represent Texas artist Tom LaRock. Tom has been passionate about the creation of fine art for a lifetime. However, he explains that early in his working years, he pursued other interests; the first as a gymnastics coach and in the physical fitness arena and the second in mechanical engineering. In 2013 he decided to leave the corporate world of business and moved to New York City to follow a passion for art by preparing for his third career as a professional artist.
New York uniquely provided access to many opportunities to view and obtain concentrated instruction in the creation of fine art. Tom says he is inspired by the artistic environment in New York where the recent resurgence in the creation of realistic art by contemporary masters is thriving. Many schools, ateliers and studios of artists who paint, sculpt and instruct in the realistic styles of the European and American masters of the 18th and 19th centuries have been established. The realization that concentrated study was going to be necessary to get him to the next level of artistic excellence led Tom to New York where he could work full time in the study and practice of realistic painting.
He had the unique opportunity to obtain this level of instruction at the studio of master artist and instructor Joshua LaRock. Joshua is Tom's son and his studio at the time was located in the heart of the Flat Iron District of New York City. In addition to receiving artistic instruction and working with his son for three years, he received incredible exposure and training in classical methods. Upon completion of his studies, he returned to Texas to continue to work full time painting in the realistic and classical style of contemporary masters and other masters from the 18th and 19th centuries. Tom's goal is to produce art that tells a story in a timeless manner and compels the viewer to consider the beauty, truth and goodness in all people and the world in which we live.
Items displayed at our gallery