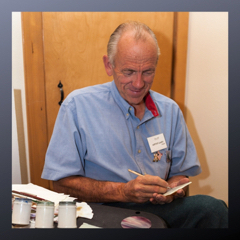 Gary Vigen
Hunter-Wolff Gallery is proud to showcase the unique stained glass paintings created by the late Colorado Springs based artist, Gary Vigen (12/21/1944-12/30/2016). Each of Vigen's designs is one-of-a-kind, signed, and numbered by the Artist. His framed and ready to mount glass plaques are hand painted, and then fired at 1,300 degrees Fahrenheit.Vigen's approach and style has been developed and reinforced through his passion for drawing. Although a dedicated and devoted junior high art teacher for nearly 30 years, he admits his avocation is drawing. As a result, he has successfully directed his talents by working in a technique unique to this medium. This method of painting requires the skillful hand for drawing as well as painting.Although this process of applying paint to the surface of glass seems new and unusual, it is, in fact, a very old technique that is experiencing a "rebirth". This technique was commonly used in cathedrals around the world and many examples can be found in ancient buildings.
The traditional stained glass painting process was developed to create details such as faces and folds of clothing that couldn't be added with traditional lead lines. It was also used to cover up portions of stained glass works to keep light from shining through the glass.Each painted design, created by Vigen, has its own unique characteristics to entice the viewer to recall or see a special time or place in nature. The artwork starts by the selection of a special piece of art glass, relying on the grain and character of that glass. Through painting, a landscape is developed from the mood of the glass and paint.
The palette consists of a variety of colors. Each color is made from pre-mixed powdered paint. This mixture is composed of the same ingredients used in making of glass. Special oil is mixed with the powder to create a useable consistency. The paint is then applied in any number of ways using brushes, sponges, and pens. He creates depth and intensity of color by layering the paint. After each layer is applied, it is fired in a kiln at 1,300 degrees. The heat of the kiln causes permanent bonding with the glass and produces a beautiful piece of art that is easy to maintain and clean.
Items displayed at our gallery