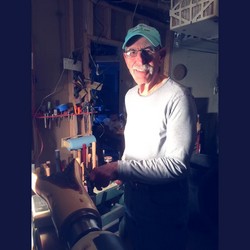 Al Testa
Hunter-Wolff Gallery is pleased to introduce Al Testa, a fairly new wood turner in the Pikes Peak region, who is excited about his line of wood products exclusive to Hunter-Wolff Gallery. Al moved to Colorado about ten years ago after retiring and decided retirement wasn't for him. He got busy learning about the skills needed to be a fine wood turner. Determined to measure up to the "big boys" in the area, he watched every You-Tube posting about wood turning, joined the Pikes Peak Woodturners and became a member of the American Association of Woodturners to accelerate his education to be included among the best.
He says he was especially fortunate to meet his now mentor, Garry Baker through the Pikes Peak Woodturner meetings, and credits Garry with helping him develop high-level skills and techniques to produce beautiful artistic projects.
Typically Al turns bowls, vases, platters, and bottle stoppers using upward of twenty-five different species of wood, including spalted maple, beetle-kill ponderosa pine, mahogany, cottonwood, walnut, juniper, Russian olive, purple heart, and other exotic woods. Al says although he is still learning and experimenting with different techniques, he is excited to create pieces that are functional and decorative, and that he can give the wood he works with a second life.
Items displayed at our gallery