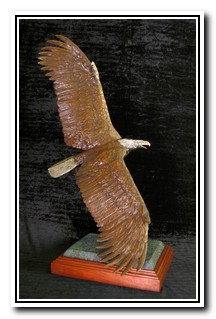 Thomas H. Dickson
Hunter-Wolff Gallery is proud to present a contemporary collection of original bronze sculptures by Colorado sculptor Thomas H. Dickson. This highly accomplished sculptor lives in Denver, Colorado and exhibits his work nationally and internationally. A member of Allied Artists of America, Tom is also an accomplished photographer and explorer whose travels have taken him from the Arctic Circle to the jungles of Indochina, the rain forest of Central America to the great reefs of the Caribbean.His wildlife bronze sculptures are inspirations from his extensive travel.
Tom began his career as a professional artist in 1973, casting his first bronze shortly after completing a tour of duty with the US Navy Seal Team One. He is also the first artist to cast representational sculpture in stainless steel using an innovative process he developed of modeling directly with cementation materials.
Although known for both painting and sculpting, his sculpture brought national recognition and international acclaim. Toms impressive resume lists many awards, nearly a dozen commissions including pieces for the Denver Zoo, Philadelphia Zoo, University of Denver, US Navy UDT/Seal Team Memorial and more. His work has been purchased for private and corporate collections in Colorado, Minnesota, Idaho, Ohio, Texas, Oklahoma, Illinois, Pennsylvania, Michigan, Tennessee and as far away as Kenya, Africa and Perth, Australia. During his career, he has exhibited in dozens of prestigious shows and galleries around the globe and has been published in numerous magazines for more than twenty years. Arrangements can be made through Hunter-Wolff Gallery to work closely with the artist for commissioned work.
Items displayed at our gallery