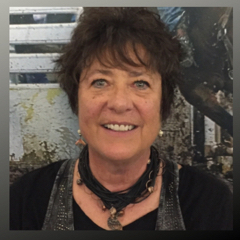 Dayna Morgan
Dayna Morgan and her husband have been enjoying Colorado as residents since 1991. After a long carreer in the IT world and working with the local military bases, Dayna's interests turned to jewelry design and working with her hands. Dayna is no stranger to detail or working with her hands. She has been handling horses and involved with competitve trail riding and endurance rides for years. Her long-time love affair with horses has inspired much of her jewelry designs.
But Dayna's interest in jewelry-making evolved when her husband took an assignment working for NATO in Afghanistan, which allowed her time to explore her creative nature. She began meeting local artisans and became involved with shop owners in her neighborhood who guided her to pursue her new passion.
While exploring metalsmithing, she signed up to take several recommended silver/copper workshops in Santa Fe, Denver and other art communities and quickly learned on how to handle using a torch and other tools for jewelry making. Since then, Dayna has developed a skill for working with copper PMC and has become an expert at the work bench using a torch, Dremel and hammer to create one of a kind wearable art made from copper, precious metal clay, sheet metal, wire and precious stones. In only a few short years, Dayna Morgan has grown a following for her unique jewelry now being enjoyed far beyond her home in Colorado.
Items displayed at our gallery