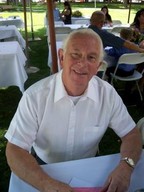 Richard Smith
Richard B. (Bell) Smith is an artist who began his art career inspired by nature. Growing up in Northern Michigan, he spent most of his childhood exploring and discovering the great outdoors which had a profound effect on his pursuit of art as an adult. Smith earned advanced degrees in literature and linguistics and continued studies at the doctorial level. But his love of art inspired by nature pulled at his heart. As years passed, his passion proved invincible and he left academia to pursue his dream to be a working professional artist.
His artistic sensibilities were found in their expression of a new medium called "welded sculpture". His hand-built and hand-painted sculptures are the result of working with molten metal. He found this medium was an ideal way to capture the flow of organic forms. Smith's welded metal sculptures tend to be interpretive and on the subjective end of the impressionistic/photographic realist spectrum. Each piece created by Smith is an original welded sculpture, fabricated using an oxyacetylene torch, pair of pliers and his boundless imagination. "I'm committed to the idea of creating sculptures of universal appeal that is available to each collector at his own level of consciousness." For some, the artwork may represent ornamental and decorative beauty whereas others view Smith's work as a unique expression of form, texture, and color combined with organic materials like rock or crystals.
Richard specializes in commissioned work made to the specifications of the client or based on dozens of designs shown on this page. He will create a specific size, design, color, etc., based on customer requirements. SOLD pieces can be replicated and ordered for a one-of-a-kind work of art (please call 719-520-9494 with your requirements).
Items displayed at our gallery