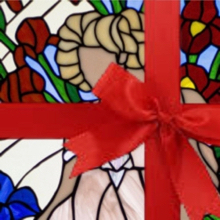 Larry Jakubiak
Hunter-Wolff Gallery is pleased to offer stained glass by Colorado Artist Larry Jakubiak. He says he has always had a love for stained glass, even in his youth. In 1977, Larry finally had an opportunity to take a one-day stained glass workshop in Boulder, Colorado, and tested out his skills. Although it only took one workshop, after successfully making his first 8-piece flower, he was hooked. Unfortunately, he needed to postpone following his new passion to focus on raising his family and establishing a new business.
Moving forward building a future for himself and his family, he became a chef, restaurant owner and entrepreneur. But that wasn't enough. Because of his love for his community and neighborhood, he stepped up and served as councilman and mayor of Hotchkiss, Colorado, for twenty years.
Then, retiring in 2012 and thirty-five years after taking that one-day workshop in Boulder, a new opportunity presented itself and Larry joined a small stained-glass co-op. From there his work blossomed. Not holding back, he turned his former office into a stained-glass studio where new ideas, designs and inspiration grow. Having created hundreds of pieces and participating in art festivals and shows, Larry continues to push to the next level for greater, more complex work. His pieces have grown dramatically from the day of his 8-piece flower to being show-stoppers with hundreds of intricate, colorful glass elements. These fragile, vibrant panes of glass do much more than simply let light penetrate their color, they possess the power to tell stories and stir emotions.
The creation of beautiful stained-glass panels and windows require artistic vision and great skill in working with glass and metal, a skill that Larry has naturally developed in a short period of time. Stained glass creation is an art form that requires tremendous dedication, desire and self-discipline to master the nuances of combining glass and metal. We hope you enjoy his wonderful designs and be sure to ask about commissioned works by Larry Jakubiak for your special requirements.
Items displayed at our gallery