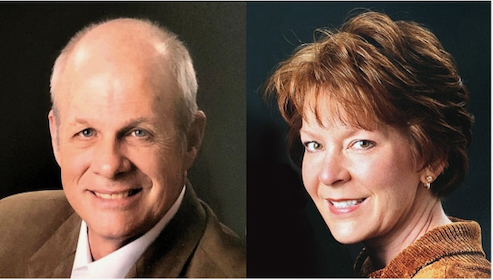 Mark Harry
Hunter-Wolff Gallery is pleased to introduce Colorado Springs woodturner Mark Harry and his wife Rebecca a classic paper quiller.
At a very young age, Mark and his family moved from Ohio to Colorado Springs, Colorado, where he was introduced to art through his parents. His father was a commercial artist and talented singer. Growing up in a home where art was important became an advantage throughout Mark's life. He recalls one of his earliest works, a large ceramic mosaic completed during junior high school, and later learning how to create fine ceramics using a potter's wheel in high school. Although Mark moved on to other opportunities, he did build a body of work offered through a local gallery in Colorado Springs.
Competitive cycling became his next passion. Unable to find an off-the-shelf bicycle that fit properly, he started designing and building his own bicycles. This was followed by building his own house in Rochester Minnesota.
By the time he reached his early 30s, Mark published and illustrated several works on the clinical and technical aspects of Echocardiography. These works are illustrative guides with all the illustrations hand done by Mark.
For nearly 20 years, with hundreds of hours in his wood shop, he developed the skills and expertise to turn local and exotic wood into functional and decorative art pieces. Charmed by the wide variety of wood grains, he had found his artist home. Mark and his wife Rebecca, a fine artist also, began collaborating with a variety of media. Today, they work together, combining Mark's beautifully turned platters and bowls with Rebecca's colorful and delicate quilling.
Items displayed at our gallery